Prior to your rainwater tank being delivered, it is important to
first prepare your tank site
with a solid, level and compacted base. This will mean less hassle later trying to move your tank into position which can be difficult if your water tank is large.
Tank Delivery Areas
(access permitting)
Delivery Truck Access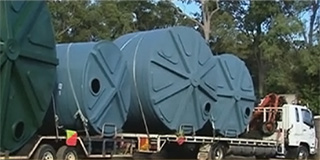 Our delivery truck and trailer is big – 5m (16'6″) tall, 3m (10′) wide, 18m (60′) long. The truck alone is 9m (30′). So a lot of clear access is needed at the delivery site. Please check gates, roads, roundabouts, crossings and overhanging trees on your property so that we can deliver your tank without damage (access permitting). If delivery cannot be made to your site – other hire and crane equipment is at purchaser's expense.
Inaccessible Sites (man power required)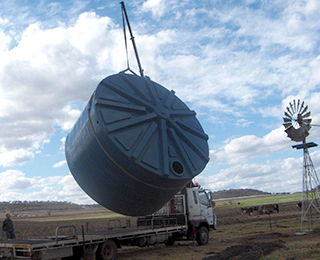 If the truck and crane cannot reach delivery area, then for occupational health and safety reasons our driver will need help to unload your tank from the truck. Please ensure an adequate number of adult persons are able to assist at time of delivery.
Slimline Tanks (3,000L–5,000L): 2 people + driver
1,000L–8,600L: 2 people + driver
10,000L–14,500L: 2 people + driver
22,700L–24,500L: 3 people + driver
30,000L–37,200L: 4 people + driver
We will do our best to deliver your water tank without hassle. If your site is inaccessible and assistance cannot be provided then hire or use of any equipment will be at your expense.