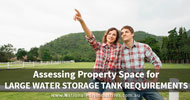 When buying a rainwater tank, it is important to consider how much space you have on your property and where it will be sited. In most cases, space limitations can be overcome for large storage requirements. This article will look at some solutions for larger water storage capacities within limited property space. In another article, we investigated 
options for fitting in lower water storage requirements (less than 10,000 litres)
.
Identifying Space on Your Property
So you need to store more water than 10,000 litres worth, yet your property has limited space? One trick might be using a combination of slimline tanks and underground tanks, in addition to round water tanks, if your water capacity requirement isn't much more than 10,000 litres. If you are looking at 25,000 litres, 50,000 litres or even 100,000 litres, the best thing to do is map out your property, measuring all available surface space available. Don't just include the immediate space around your house or shed, but also property space that is further away. In terms of more convenient installation, while it is often desirable to have rainwater tanks closer to the downpipe of your capture area, there is no reason why your tanks can't be placed further away. Just rather than installing a "
dry piping system
" (where pipes run above to the top your tank), "
wet piping systems
" might be better to setup (where pipes run underground to your water tank). Assuming you need approximately 50,000 litres of water storage, installing our 50,050 litre tank would require approximately 5 x 5 metres of foundation space. In our experience, we find property space available is less wide and more and long in a rectangular space. In which case, two smaller 24,500L tanks might do the trick, or even five 10,000 litre tanks.

Real Life Large Water Storage Cases
In 
many real cases
 where high water capacities were needed, customers have been able to fit in multiple smaller tanks rather than one very large tank. For example:
There are numerous options, once you begin to consider multiple water tank setups. This can also sometimes provide you with the best price per litre, as multiple smaller tanks can work out cheaper than one very large tank. There are in fact many benefits to installing multiple tanks (read 
Rainwater Tank Benefits of Linking Two or More Water Tanks
). If you still need help working out a water storage solution that will fit on your property, give us a call at National Poly Industries. We have a range of tanks in different types, sizes and dimensions. Further, our water tanks are certified to 
Australian Standards
, make use of food-grade polyethylene and feature 
SUPA-UV protection 
technology.