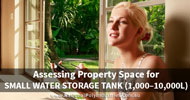 Many people do not realise how big water tanks can be, so it is important to first ensure your property will fit the dimensions of your water tank being purchased. Once you have 
considered the amount of rainwater you wish to capture
, the next step to consider is where on your property the water storage tanks necessary can be placed. This article will look at different solutions for water storage requirements up to around 10,000 litres. In another article, we investigated 
options for fitting in large water storage requirements (10,000L and up)
.
Fitting in Round Tanks
It is often easiest in terms of installation to have your rainwater harvesting tank close to the downpipe extending down from your gutter. At the same time, pathways are normally had, which you may not wish to move. One option is to place your tank further out from your house, on the outside of your pathway. Piping then leads from your gutters' downpipe, over the pathway, and into your tank. Keep in mind, your base needs to be 300mm wider than the diameter of your tank, meaning for a 5,000 litre tank you will need between 2,150mm to almost 2.5 metres of square space. Multiple smaller round tanks might fit, our two smallest 1,000 litre round tanks only requiring 1,170mm to 1,300mm square space. You can easily view a list of our
small round tanks
 and associated dimensions on our website.
Slimline Tanks as an Alternative
Thankfully, there are also 
slimline tanks
 that are made with a narrower width, which might present you with a better option. Sizes are available in 3,000 and 5,000 litre capacities with dimensions between 680mm to 1m wide. Slimline tanks are made to fit alongside your house, on the inside of a pathway, or beside a fence line. They can also be 
linked together
, and make a good alternative for smaller water storage capacities. Compared to multiple 1,000 litre tanks, they look more elegant and can work out more cost-effective per litre.
No Surface Space for Tanks?
Still don't have enough surface space? Then consider our range of 
underground poly tanks
 that require shallow excavation to about 1 metre deep without any gravel or ballasting required. They can be placed underground in yard space or under pathways. If you are considering adding or replacing your driveway, then they can even be placed underneath. Underground tanks range in capacities of 1,500 litres, 3,000 litres and 5,000 litres. It is possible to link multiple tanks together, allowing for water storage space up to around 10,000 litres. Are you in need of a water storage solution, one that will fit on your property, then give us a call at National Poly Industries. We have a range of tanks in different types, sizes and dimensions. Further, our water tanks are certified to 
Australian Standards
, make use of food-grade polyethylene and feature 
SUPA-UV protection
 technology.