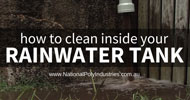 You want to ensure the rainwater collected in your tank remains clean and fresh, especially if used for washing, cleaning or drinking. Properly maintaining the water quality in your tank also extends the life of your 
tank pump
, water filters and household appliances plumbed into your rainwater. If you have had a rainwater tank for several years, then you may have noticed that some sediment and leaves managed to find their way into your water tank. Even with gutter guards, a 
rainwater diverter
, leaf eaters and 
strainers
, which all work to keep clean rainwater flowing into your tank, somehow debris find a way into your tank. The organic matter that settles at the bottom of your tank, if not cleaned out, turns into a sludge. Part of your tank maintenance for fresher rainwater should involve cleaning out this sludge which builds up inside your tank. The 
Australian Department of Health
 recommends that water tanks should be inspected inside every 2-3 years for the accumulation of sediments. To not clean inside your rainwater tank can allow harmful bacteria to build up causing vomiting, stomach cramps, diarrhoea and other health issues.
Cleaning Inside Your Tank
Cleaning inside your tank can be a frustrating experience. If you don't have a tank self-cleaning system installed, then our recommendation is to hire a Water Tank Cleaning professional who can warrant their work for damage to your tank, since manufacturer warranties will normally not cover any damage caused during cleaning. The cleaning process normally requires vacuuming the dirty water out of your rainwater tank through a hose and pump. Alternatively, if your tank is big enough to enter, then you can drain the rainwater from your tank and hose and sweep it out. Climbing into a tank can be dangerous so take care. Furthermore, not all rainwater tanks can be easily accessed, so don't force yourself into one! For more information about cleaning your tank, 
contact our expert team
 today.