What is SUPA UV?
Rotathene® provides a much higher level of protection against the Sun than the required industry standard for poly tanks. It is referred to as "SUPA UV" for this reason. Rotathene® SUPA UV provides superior protection for rotomoulded products by incorporating advanced additive technology to last 4.5 times more than the Australian poly tank standard requiring a UV8 level protection.
Outstanding UV Protection in Poly Tanks
Through the careful selection of a high quality polyethylene base polymer specifically designed for tank use, advanced additives such as UV stabilises and antioxidants, National Poly Group and their supplier, Matrix Polymers, ensure the best materials are used from which to manufacture water tanks. Professional design engineers and Finite Element Analysis in the design of poly tanks as well as moulding and testing the tanks to the requirements of the Australian Tank Standard AS4766, optimises the properties of the materials used in the manufacture of these tanks and affords the end user the knowledge that they have a superior product designed for the harsh Australian conditions
High Need for Protection in Australian Sun
Australia experiences some of the highest levels of UV radiation in the world requiring polyethylene developed with leading edge technology to ensure water tanks are durable and reliable for their long lives. For this reason Rotathene® SUPA UV was created to meet the exacting needs of the Australian water tank market. Australia has one of the highest levels of UV radiation in the world, receiving over 200 kilolangleys of UV radiation annually.  This is double that of SE Asia, Europe and most of North America. (Figure 1):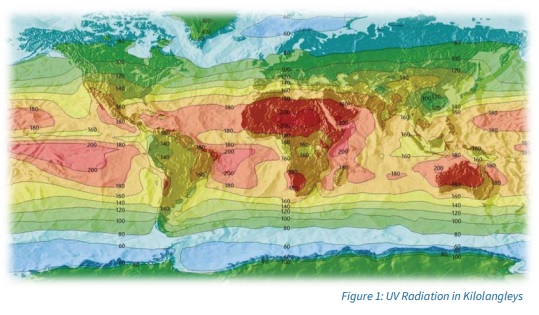 Australian Tank Standards for Sun Protection
The UV performance requirement in Australia for chemical and water storage tanks is that at least 50% of the original tensile elongation properties are retained after 8000 hours of intermittent exposure to an intense UV light source. This is known as a UV8 level of stabilisation, and it is the standard required by the Australian and New Zealand standard (
AS/NZ4766 Polyethylene storage tanks for water and chemicals
). Tanks made from Rotathene® SUPA UV far exceed this standard, possessing more than double the UV performance required by AS/NZ4766 standard. Even after 36,000 hours accelerated UV testing, the pigmented samples containing Rotathene® SUPA UV retained well over 50% of their original elongation properties For more information on how testing the performance of polyethylene is undertaken, take a read of our article 
Testing Poly Tank Sun Protection: SUPA UV Sun Protection
.