Many rainwater tank suppliers often state their 
poly tank materials
 comply with the AS/NZS 4766 ("Polyethylene Storage Tanks for Water and Chemicals").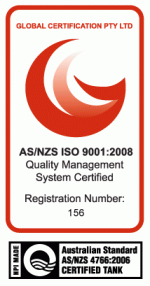 If a company claims their poly tanks are certified to the AS/NZS 4766, this does not guarantee that yours will be. This is because it is actually left up to the manufacturer to ensure quality processes are followed so that all requirements are met. It is very important for you to confirm that the process of any tank manufacturer has been 
independently
 certified to the AS/NZS 4766 standard. This is added assurance that your tank really does comply with the Australian standard.
How To Tell Your Tank Complies With AS 4766?
The AS/NZS 4766:2008 standard requires that manufacturers pass a strict set of tests. Some specific requirements that you can look for include:
Poly storage tanks must be rotomoulded into one seamless piece (that is, no side seams).
Radius of corners at tank base must be a minimum of 25mm for a 1.8m diameter.
Tanks over a 1.8m diameter must have a minimum base radius of 38mm.
An installation guide must be supplied with every tank.
A tank serial number to be marked on every tank.
National Poly Industries' Tanks
As an ISO 9001 certified manufacturer, 
National Poly Industries are independently audited
 to ensure that our manufacturing processes and material suppliers comply with the required Australian standards. For more about these standards, National Poly's own testing procedures poly tank compliance, please read our 
AS/NZS 4766:2006 & ISO 9001:2008 Certification
 page.