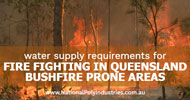 Queensland is notorious for its bushfires with the fire season typically being between August and January. In the 2002 to 2003 fire season, 2800 bushfires scorched 8 million hectares. At the end of December 2013, hundreds of campers and visitors lapping up the sun on North Stradbroke Island had to be evacuated due to bushfires. Queensland Fire and Emergency Services (QFES) have around 40,000 firefighters on standby, however it is important for property owners take some responsibility to help firefighters do their job in an emergency. This article looks at water supply requirements for Queensland properties in bushfire prone areas.
Bushfire Safety Precautions
If you are building on a property in a bushfire prone area, then you will need follow state 
guidelines on home construction
. These guidelines include fire protection measures such as appropriate siting of buildings; creating fire barriers and buffer-zones to protect your home; and in the case of new homes, adhering to the recommended design and construction methods. You will also need to ensure that your home uses non-combustible materials for construction, as outlined in AS3959 — the new 
Australian Standard for the Construction of Buildings in Bushfire Prone Areas
. To determine what sections of the AS3959 building standard apply to your home requires first 
determining your bushfire attack level (BAL)
. Obviously, having an accessible and adequate supply of water on your property to fight bushfires is also important. For rural properties without access to a reticulated water supply, particularly those located in the bushfire hazard overlay zone, this may mean installing a water storage tank dedicated to fire-fighting purposes. This tank is intended to have a reservoir of water always available. The volume of water you need to set aside for firefighting purposes depends upon the size of your property, and your local regulatory requirements. For example,  in Brisbane,
bushfire prone properties less than 1000m2 require a minimum of 5,000 litres of water,
residential lots between 1,001 to 9,999m2 require 10,000 litres of water, and
residential properties greater than 1 hectare require a minimum of 20,000 litres of water. W
Water in swimming pools and/or dams normally isn't considered a reliable source of water in times of drought, however in other areas like the Gold Coast, water in swimming pools (or other large bodies of water) is considered an acceptable source.
Technical Specifications for Water Supply Tanks
Firefighting water storage tanks can be located above ground or below ground. Above ground water storage tanks that store water specifically for fire-fighting should be made from inflammable materials or they should be adequately shielded from heat and flames. All above ground pipes and fittings delivering water from the tank should be metal rather than plastic. Underground poly tanks are ideal for storing water for fire-fighting, but if an underground storage tank is used for fire-fighting purposes, this needs to have a 200mm access hole to allow a fire tender to refill directly from the water tank. The water supply needs to be have an outlet pipe with a 50mm diameter that is fitted with a 50mm male camlock (the standard fitting used by the rural fire brigade) so that fire-fighters can attach their hoses to the tank and access the water within.
Fire-fighter Access & Safety
To ensure fire-fighter safety, the outlet to the water supply needs to be situated away from gas bottles or other potential fire hazards. If situated on the more bushfire hazardous side of buildings, adequate shielding should be provided to protect fire-fighters, and pumps also need to be adequately shielded to protect them from fire damage. While it is all very well having water storage tanks on your property, you need to bear in mind that fire-fighters need to be able to access them safely, and they must be able to attach their hoses to the tank so they can access the water within the tank. Any delays could result in your home being destroyed by fire.