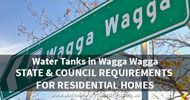 Wagga Wagga
 is a vibrant regional city in Southern New South Wales, located midway between Sydney and Melbourne. Surrounded by impressive country landscapes and straddling the magnificent Murrumbidgee River, Wagga Wagga is the hub of the Riverina region with a population of 56,000 residents. If you live in Wagga Wagga, chances are that you will want to help preserve its natural beauty. 
Installing a rainwater tank
 on your property, harvesting your own water from the skies, is a great way to sustain its waterways which provide an irreplaceable quality of life. This article serves as a guide only to help you understand water tank requirements that must be met in the Wagga Wagga region. Before acting on any information, we highly recommend 
contacting the Wagga Wagga City Council
to confirm the current local requirements.
State Level Rainwater Tank Requirements (New South Wales)
Use of water tanks in Wagga Wagga is largely regulated by the national and state requirements. When installing a rainwater tank, especially in new homes, there are water efficiency standards and initiatives that you need to be aware to. These include BASIX, the National Construction Code requirements, and the NSW State Environmental Planning Policy.
BASIX Requirements
The NSW Government has implemented residential building requirements called 
BASIX
 that aim to deliver sustainable water and energy. BASIX certification is required for:
new buildings that consist of one or more dwellings
conversions of an existing building to a building that consists of one or more dwellings
additions and/or alterations to buildings that consist of one or more dwellings with an estimated work cost of $50,000 or more
swimming pools with capacity of 40,000L or more.
BASIX aims to achieve a 40% reduction on the consumption of potable water against the state benchmark. Water tanks are a great way to achieve BASIX certification for your proposed development. Rainwater collection is assessed in BASIX based upon:
the capacity of the rainwater tank being installed
roof catchment area that will be connected to the rainwater tank
how the tank water is used
running overflow from your rainwater tank to another tank for collection and re-use.
National Construction Code Requirements
The 
National Construction Code (NCC)
 must be complied with when building new homes, performing home extensions and major renovations requiring building permits. The "6 Star Standard" in the code provides national minimum requirements and ratings for energy and water efficiency. In short, to comply with the 6 Star Standard, water tanks must fulfill the following:
be connected to a minimum of 50m2 of roof catchment area
have a minimum capacity of 2,000 litres
be connected to all toilets for the purpose of sanitary flushing.
The NCC also incorporates the 
Plumbing Code of Australia
, which is the technical standard for all plumbing and drainage work in NSW. Installation of rainwater tanks must be compliant with this code, which also calls upon the 
Australian Standard AS/NZ 3500
 that covers appropriate plumbing and drainage.
NSW State Environmental Planning
In NSW you must also comply with the development regulations articulated in the 
State Environmental Planning Policy
. Many specific requirements are provided depending upon whether your rainwater tank in installed above or below ground. Some of these include:
plumbing your tank into your house and/or interconnecting to mains water needs to be carried out by a licensed plumber
your water tank cannot be places on the footing of an existing building
screening against mosquitoes and other insects breeding inside is ensured
the overflow of the tank is connected with an existing stormwater drainage system
the water tank is placed in the rear yard, behind the building line
protection against vermin entering the water tank is ensured
protection against ingress of storm water and ground water if the tank is partially or completely buried in the ground is ensured.
Wagga Wagga Rainwater Tank Requirements
Outside of the national and state requirements endorsed by Wagga Wagga Council, there does not seem to be any unique requirements that need be met. Nonetheless, there may be more specific requirements for your area if, for example, your property is 
located in a bushfire prone area
. Depending upon your building type and lot size, you will generally need to meet a water storage requirement of anywhere from 5,000 litres up to 20,000 litres (this is in addition to BASIX requirements!). Rainwater tanks can be used as 
water retention tanks
 to meet these requirements. It is also important to note that many plains in Wagga Wagga carry flooding risks. In more built up areas, rainwater from roads, driveways, footpaths and other hard surfaces can cause stormwater drainage problems. As part of stormwater management planning, the council may require you to meet certain 
stormwater detention requirements
. This normally means setting aside storage capacity in your tank for detaining rainwater that is then slowly released from your tank.
Buying a Water Tank in Wagga Wagga
If you are looking for a water tank for your Wagga Wagga property, contact our friendly staff for a great deal today. We offer 
fast and free delivery
 to the Wagga Wagga region.