National Poly Industries work with external and in house designers and have state of the art rotomoulding equipment with a wide range of capabilities. If you have a poly product that you need then consult with us to help design and bring it to life.
Project Rotomoulding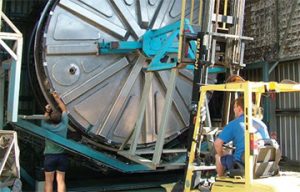 Products from large to small can be made for you to precision. Our experience extends to tanks, boats, Karley floats, pool stairs and playground equipment to name a few. Our manufacturing facility supply a wide range of industries with specialised products including the marine industry with specially engineered products for search and rescue applications, as well as specialised products for the toy industry. Speak to us if you need assistance to design a product, manufacture moulds and then produce your special product cost effectively and with a high level of quality.
Rotomoulding Design Considerations
When designing your product there are several important considerations that help to ensure your product is correctly manufactured.
Techniques – if your required product is more complex than a simple hollow shape, then you may need to consider inserts, clever use of part lines, kiss offs, multi-layering, foam, materials, geometric designs and surface finishes.
Structural Integrity – if your product will experience certain stresses then you will need to computer simulate these stresses before finalising your design. This process is known as Finite Element Analysis (FEA) and it helps to identify weaknesses that need attention.
Due to different complexities involved, we highly recommend talking with us before committing to having your mould fabricated. We will provide you with with practical moulding advice that can improve processing quality, structural integrity, weight balance and processing times. This can often lower your manufacturing costs. Talk to our specialists today on 1800 758 709 to discuss your product design.