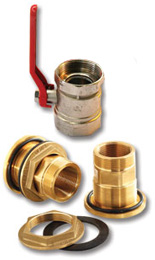 National Poly's tank fittings are a premium brass fittings with several features not widely available on other common fittings.
O-ring and rubber washer – provides a perfect seal for your tank.
Hex profile on generous outlet extension – allows most standard spanners to be used.
Integrated left-hand clamping thread – allows for a firm and reliable seal at all times.
DR Approved W2503 Australian Standard 3688V approved fittings – ensures no zinc leaches out of the alloy into your water.