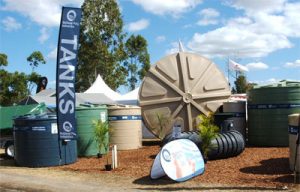 National Poly Industries is a privately owned Australian company manufacturing tanks for over 20 years.
We are a well established company and known as a pioneering poly tank manufacturer dedicated to being the absolute leader in the polyethylene rainwater tank market and associated product groups.
In Queensland
our manufacturing plant is located in Bundaberg, an ideal distribution point for reaching the markets to the north, south and west, including Northern NSW.
In New South Wales
our manufacturing plant is located in Bathurst, an ideal distribution point for reaching the markets to the north, south and west, including the ACT. The construction process uses a specifically formulated UV stabilised food grade polyethylene powder and customised computer controlled ovens. National Poly Industries moulds poly products in one virtually indestructible piece which stand the test of time and resist the harshest of climatic conditions. The demand for water tanks is ever increasing. What was once an icon of country living has fast become accepted as normal in urban areas. With issues such as climate change forcing governments and regulators to act, it is now compulsory in many areas to install a water tank/s in all new buildings and houses.
Mission
National Poly Industries will be the leading manufacturer of rotomoulded polyethylene products addressing market opportunities for tanks and Polycraft in Australia and internationally.
Vision
Our vision is to be the leader in the markets we choose to serve. We aim to be number one in reputation, recognised as the leader in terms of the products we provide and in the markets in which we choose to compete.
Values
We lead by example – at all levels act in a way that highlights what we expect from each other and what customers expect from us.
We work together as a team – looking to bring out the best in each other and creating a strong and successful working relationship.
We respect the individual – respecting people for who they are and for their knowledge, skill and experience.
We are open and honest in communication – sharing information, insight and advice, managing difficult situations with candour.
We act with integrity – constantly striving to uphold the highest standards.
We focus on safety – We will only complete a task if it can be done safely with no danger to employees.
Innovation
With an eye for innovation and design the company launched
Polycraft boats
. Polycraft has since successfully grown rapidly to become Australia's leading brand of polyethylene recreational trailer boats.