Why Farm Water Tanks are Vital
Clean water is an absolute necessity for survival and a steady supply of water is essential for your farmland to thrive. When the water table can no longer accommodate water during a flood or you need to store water for an emergency, a farm water tank would come in handy. Everything from storing drinking water to fire suppression, a rural water tank could serve a broad range of requirements.
Main Water Source for Your Farmland
Own farmland in rural Australia? It is unlikely that you have access to the main water supply for your farmland. A farm water tank can act as your main source. With careful water planning and installation of multiple poly tanks, you can have an uninterrupted water supply for your household chores, crop irrigation, stock management and more.
Collect, Store & Maximise Water Sources
With a rural water tank on your property, you can maximise your water storage by harvesting rainwater from the roof and pumping water from rivers, creeks, or groundwater tables. You can also tap in and capture the water runoff from dams, allowing you to add more water sources for your property.
Increased Flexibility & Efficiency
Having multiple farm water tanks can reduce the risk of water shortage and increase the flexibility to add more tanks if you have increased water requirements. You will also have the flexibility to separate clean water sources from relatively contaminated ones thus increasing the efficiency of water usage.
Emergency Supply—For Fire, Drought & More
Drought and fires do not hit us with a warning. Australian weather can often be harsh, and parts of Australia are fire-prone. The main water supply might be cut off during a fire or any other emergency. Water from your tank can help in such circumstances by acting as your only source until normalcy is restored.
Hydrological Balance
Rural water tanks play a role in substantially replenishing groundwater in drought-prone areas. In addition, by installing a tank water irrigation system you can restore the hydrological equilibrium of the land and ensure that you don't have to depend on seasonal rainfall.
Types of Farm Water Tanks
Water storage is an age-old process that has seen many changes over the years. Tanks of various sizes and models have been crafted to best fit unique requirements. With careful planning, you can install tanks that are designed for your specific needs on your farmland. Consult with us about National Poly Industries' range of durable farm water tanks.
Designed for both rural and urban applications, round tanks under 10kL are perfect to store water without changing the taste or quality. With superior design and tapered walls above 5000L, these tanks are available in a range of colours that you can choose from. Competitively priced, National Poly Industries' heavy-duty round water tanks are manufactured to meet Australian standards and come with 20 years warranty.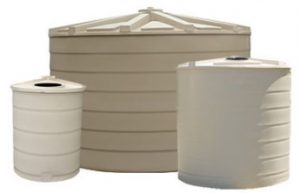 While there are a wide variety of tanks, National Poly Industries' round tanks over 10kL are perfect for long-term storage of water without compromising on the quality of the water. Our tanks are manufactured to the highest standards using food-grade UV-stabilised polyethylene. If you are looking for reliable and long-lasting tanks, our round tanks over 10kL are an ideal choice.
Another excellent space-saving option designed to fit in tight spaces or unused spaces on your property is a slimline tank. Creating a sleek and modern look, National Poly Industries' slimline tanks are easy to install and easy to manoeuvre. Extremely durable, our poly slimline tanks can last longer, and our 10-year warranty can back that up.

Industry Leader in Farm Water Tanks
Accessorise your farmland with National Poly Industries' range of specially curated farm water tanks that can ensure your property always has more than enough water storage space. With options to maximise storage and be space efficient, we have been manufacturing non-corrosive tanks that last for over 20 years. Using cutting-edge technology and premium-grade materials, we ensure to deliver tanks that will have a clean and clear inner surface for a long time. Get our one-piece constructed tanks for an uninterrupted, infestation-free water supply for your land.
Call our team at National Poly Industries or enquire online to find the right rural water tank for your land.
Having access to an adequate amount of water throughout the whole year is an essential requirement for successful farming. It doesn't matter if you grow crops or rear animals to provide food, wool or other products, good quality water is essential for the welfare of your farm and business profitability.
This article will focus on farming water storage needs, which form a crucial part of your fuller farm planning. It is important to get this right in the beginning, as working out and adding storage later tends to be more difficult and expensive.